4 tags
7 tags
All The Wrong Food In All The Wrong Places
Liz Lamoste It's fairly obvious that the city of Detroit has a whole host of pressing problems to solve. The Governor, Mayor, and City Council just entered into a consent agreement to help keep the city afloat financially, and are now sorting out core governance issues. Despite a small drop last month, Detroit's unemployment rate is 17.8% in comparison to the national 8.2% rate. Indeed, Detroit...
Testimony for the New York City Council: Traffic...
This afternoon, I had the opportunity to testify in front of a joint hearing of the Transportation and Public Safety committees. Proceeding with Caution – An Examination of NYPD's accident response and enforcement of traffic rules relating to cars, bikes, and trucks   Testimony: John Petro, Policy Analyst for Urban Affairs Drum Major Institute for Public Policy February 15th, 2012   My name is...
4 tags
Conservative Alternatives to the DREAM Act: New...
Afton Branche In this election season, discussions of immigration reform have been light on serious policy talk and heavy on partisan posturing. In his State of the Union Address, President Obama reiterated his commitment to getting immigration reform done, using strikingly similar language to what he said in past addresses. For their part, Republican presidential hopefuls have been committed to...
1 tag
End the Culture of Accepting Traffic Deaths
Michael Spitzer-Rubenstein In December, a horrific elevator accident killed a young executive named Suzanne Hart in Midtown Manhattan. The city's response was swift and firm: the Department of Buildings quickly inspected all 650 elevators owned or maintained by the company involved, and the Manhattan District Attorney's office also launched a criminal investigation into the botched maintenance...
1 tag
Taxes and the Pig--A Christmas Story
Daniel Wu "This year's the first year I'll be making enough to pay taxes," I thought to myself on Christmas morning, pontificating about how I'll be spending over half of my measly graduate student stipend on Boston's crazy rent. As I slipped into the living room for breakfast, my mom hugged me and told me again how happy she was that I was home for the holidays. Then she handed me a...
6 tags
States vs. Cities: Immigration Enforcement Policy...
Afton Branche Three years into the Obama administration and no comprehensive immigration reform in sight, immigration enforcement policy seems to be going two directions, characterized by smart policymaking at the city level and ill-advised restrictive policies in the states. This month, legislators in New York and Washington D.C. made it clear that cities don't have to get in the business of...
1 tag
DMI Scholars: Training the Next Generation of...
Apply now to be a DMI Scholar! DMI Scholars is a "Public Policy 101" for young people who want to keep our country moving forward.The Drum Major Institute for Public Policy created DMI Scholars to identify progressive college activists from underrepresented communities and train them in the skills necessary to obtain and succeed in entry-level public policy positions. Our two-week Summer...
9 tags
Squeezing the 99 Percent
Michael Spitzer-Rubenstein The fabled American Dream suggests that by working hard and playing by the rules, any American may prosper. For the generations born in the 1950s and 1960s, this largely held true. The economy boomed, business prospered, and all Americans shared in the gains—both the richest Americans and those working themselves into the middle class.  Children expected to earn more...
The Gentrification Spaceship
Daniel Wu My friend, John, invited me to visit him in NYC this past weekend. When he told me he lived in East Harlem, I imagined him studying under leaky, lead pipes. But at least, I imagined, he had cheap rent. When I met him in front of his white, square building (We affectionately call it his Gentrification Spaceship), he told me he paid $1000 a month, a "good deal" compared to his student...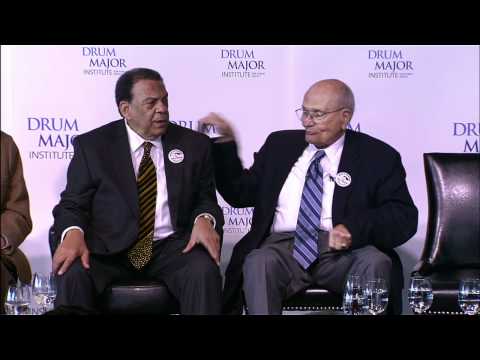 1 tag
1 tag
DMI Questionnaire Responses from Gov. Rick Perry
Have we as a nation done everything we can and should to advance the noble mission and legislative goals of the Civil Rights Act, and, if not, what more should we do – and will you – do? I believe the mission of equality as we go forward is not dependent on more laws, but on the power our citizens, communities and leaders. Our leaders must set a tone of inclusivity, and speak not only to the...
1 tag
DMI Questionnaire Responses from President Obama
Martin's call for racial justice resulted in the enactment of the Civil Rights Act of 1964.  Have we as a nation done everything we can and should to advance the noble mission and legislative goals of the Civil Rights Act; and, if not, what more should we—and will you—do? Our nation's civil rights laws and principles are at the core of our nation.  Our country grows stronger when all Americans...
Livestream of "We Marched With Martin"
5 tags
Round 1: Consumer Financial Protection Bureau...
Rakim Brooks Consumers expressed outrage when Bank of America announced that it would begin charging $5 per month for debit card use. Good for them. Working families are strapped. Median incomes are declining, food prices are rising, and the labor market is stagnant. Five dollars per month means a lot to Americans these days, especially the 45 million Americans who now rely on food stamps to make...
1 tag
We Marched With Martin Event This Sunday
6 tags
Government Layoffs: The Wrong Move in a Bad...
Michael Spitzer-Rubenstein In recent days, New York Governor Andrew Cuomo announced his intent to layoff almost 3,500 public employees. While the layoffs may not go through if Cuomo convinces the Public Employees Federation to accept pay cuts and higher healthcare costs, the threat is part of a broader trend of government layoffs. Across the country, federal, state and local governments are...
4 tags
The 99 Percent
John Petro I was among the thousands of people cramming into Foley Square Wednesday evening, observing those who had come down to show their support for the Occupy Wall Street movement. I arrived at 4:30, and for the next hour roamed around the park. It had the energy of a festival, a celebration. The air was permeated by the sound of drums. Placards waved about in the air, many of them hastily...
8 tags
Tax Break for the Rich or Thousands of Jobs: A...
John Petro Earlier this week I attended a conference on mass transit and the creation of manufacturing jobs in New York State. This connection is often overlooked, especially by lawmakers and others in government who feel that any government spending is inherently wasteful. But the fact is that New York State's investments in mass transit do create jobs all across the state—38,000...
5 tags
More Than Spare Change: How NYC Scams City Street...
Afton Branche New York is home to an estimated 10,000 street vendors, the vast majority of whom are immigrants from destinations like Bangladesh, Senegal and China. Life on the job for these workers is inherently tough; most vendors work grueling hours, rain or shine, and earn incredibly low wages that they use to support families at home and abroad. But the web of rules regulating the industry...
4 tags
DMI Scholars Alumni: Where Are They Now?
Afton Branche This summer, the Drum Major Institute will begin its leadership pipeline program for the fifth class of DMI Scholars. The DMI Scholars program helps bring talented young people from underrepresented communities into the field of public policy, allowing them to realize their dreams and serve as voices for their communities. Among DMI Scholar alumni: * 85% of DMI Scholars are...
3 tags
City Cops To Obama: We Don't Want To Enforce...
Afton Branche In a recent White House meeting, President Obama and an eclectic group of administration officials, business and law enforcement leaders, former and current elected officials and other "stakeholders" discussed current prospects for comprehensive immigration reform, one of Obama's notable and still unfulfilled campaign promises. According to official records of the...
3 tags
Martin Luther King III Speaks Out on NYC Living...
Amy Traub 43 years ago today Dr. Martin Luther King Jr. was killed. The assassination occurred as he was supporting a strike of municipal sanitation workers, standing up for the principle that "every working American should earn enough to live a decent life" in the words of his son Martin Luther King III. In memory of his father, King III made the following statement in support of New York...
4 tags
NYC Should Take A Second Chance on the Census
Afton Branche New York's official 2010 Census results came in yesterday far below expectations, stumping politicians and city planners alike. While the Census Bureau estimate puts New York's population at 8.175 million, city officials expected the number to be closer to 8.4 million. Mayor Bloomberg told the Daily News: "We don't quite understand the numbers. It just doesn't make any sense at...
2 tags
Why We Can't Afford to Give NY's Richest a Tax...
John Petro As protesters demanding the extension of the millionaire's tax descend on Albany, Governor Cuomo and the state senate Republican leadership have held firm on their desire to cut taxes for the state's wealthiest. They claim that extending the taxes would force wealthy households to move out of the state or that the tax would kill jobs, but these myths have been widely discredited. Even...
1 tag
Don't Blame City Workers for New York's Budget...
Amy Traub "Across the country, taxpayers are providing pensions, benefits and job security protections for public workers that almost no one in the private sector enjoys." wrote Mayor Bloomberg recently in the New York Times, "Taxpayers simply cannot afford to continue paying these costs, which are growing at rates far outpacing inflation." The mayor's rhetoric was calm and conciliatory, and he...
2 tags
Cuomo Must Embrace NY's Greatest Job Creation...
John Petro While presenting his budget to Albany lawmakers last month, Governor Andrew Cuomo talked about the importance of creating jobs throughout the state. "We need jobs and we need revenue. Long-term, it's jobs, jobs, jobs." It's a shame, then, that the governor is ignoring one of the state's most powerful job-creation engines: mass transit. Cuomo's job creation strategy comes straight from...
4 tags
Mayor Emanuel's Next Move on Immigration Policy
Afton Branche On the campaign trail, Mayor-elect Rahm Emanuel faced tough criticism from opponents for his inaction on immigration policy issues. Immigration advocates, on the ground and in Congress, claimed that he stood in the way of progress on comprehensive immigration reform during his time as White House chief of staff. It didn't help that Emanuel's most-quoted statement on immigration...
3 tags
Paid Sick Leave Advances in Philadelphia
Amy Traub Across the nation, the attack on workers' rights continues to mount: in Missouri, a state senator proposed rolling back child labor laws and reducing enforcement, while legislation to limit collective bargaining rights for public workers moved forward in Ohio. But in the midst of the grim news and tough defensive battles, some city policymakers are moving in a more positive direction:...
3 tags
Cheesehead Agonistes: Why Wisconsin's Fight...
Amy Traub It was cold out, but the workers crowding the steps of City Hall Wednesday morning were fired up. New Yorkers shouted in support of public workers in Wisconsin battling their governor's effort to destroy their unions by taking away workers' rights to bargain and their unions' ability to support itself through dues. "We Stand with Wisconsin Workers!" read a hand-lettered sign. But the...
4 tags
State Immigration Policies Gone Wild
Afton Branche In the absence of federal immigration reform, state governments have taken up immigration policymaking with remarkable zeal. In 2010, every state in session considered immigration laws and resolutions. In fact, the National Conference of State Legislatures finds that states passed a whopping 346 laws and resolutions addressing immigration issues. And last month alone, Fox News...
1 tag
Speaker Quinn Should Reconsider Stance on Sick...
John Petro New research adds to the considerable evidence showing paid sick leave legislation would not harm businesses in New York City. Earlier this week, a study of San Francisco employers by the Institute for Women's Policy Research found that a majority (two-thirds) of employers there support the law four years after it was implemented. Support was equally strong among small businesses. ...
1 tag
I'd Miss Eli Manning: So Would NY's Economy
Amy Traub A highly profitable business plans to cut the pay of its frontline employees because, of course, it could always be more profitable. The only obstacle? That darn union… It sounds like the story of last year's strike at the upstate New York Mott's plant But it's also my tale of growing passion for the New York Giants. Just as I was anticipating a 2012 repeat of the thrilling 2008 Super...
4 tags
(Re)calculating the Economic Benefits of...
Afton Branche Last week, Rep. Mike Honda (D-CA) made a compelling case for comprehensive immigration reform in Poltico, pointing out the various economic benefits of a legalization program. In response, Heritage Foundation analyst Jena McNeill fired off a sharp rebuttal which advanced several common immigration myths. McNeill starts by saying "the left" never argues that "amnesty" will improve...
1 tag
Cuomo and Bloomberg: Two of a Kind?
John Petro Though they may be sparring in the press, when it comes to deciding how to deal with their respective budget messes Mayor Bloomberg and Governor Cuomo are two of a kind. By marking essential services for cuts, both men have threatened to balance the budget on the backs of those that can least bear it: schoolchildren, the impoverished, and the elderly. Both the mayor and the governor,...
1 tag
The Big Picture on Workers' Rights
Amy Traub Remarks at the Urban Justice Center Human Rights Luncheon, February 3 2011 You don't have to work at a think tank to realize that these are dark days for working people. To begin with, millions of Americans aren't working. Despite recent economic growth, we still have more than four job seekers for every available job in this country. Times are also tough for people who have...
2 tags
Cuomo Budget Cuts MTA Operating Funds, Puts a...
John Petro The MTA will have $200 million less to run its trains and buses this year but will have slightly more money for its capital program, according to Governor Cuomo's executive budget. The budget would slash $200 million from the pool of tax dollars used to support the MTA's operations, called MMTOA funds. The state used a similar budget maneuver last year, taking $140 from the transit...
4 tags
New Lawmakers Get To Work on Anti-Immigrant Agenda
Afton Branche In legislative houses across the country, newly-elected lawmakers are getting down to the business of fulfilling their campaign promises. Those elected vowing to crackdown on immigration have proposed various restrictionist and enforcement-oriented policies, which seem poised to satisfy voters rather than solve actual problems. In Texas, Governor Rick Perry proclaimed that...
3 tags
Cutting the Campaign Cash: New York's Best Chance...
Amy Traub Cutting public pensions won't improve the lives of ordinary New Yorkers. Giving tax breaks to the state's highest income residents won't benefit most of us either. But at least one reform promoted by Governor Andrew Cuomo has the potential to truly transform New York's politics, putting people, rather than corporate interests, in control of the political process. Publicly-funded,...
2 tags
A Day to Be Proud of Mayor Bloomberg
John Petro Here on DMIBlog, we're not exactly shy about being critical of Mayor Bloomberg. So it feels good at those times when we can be proud of our mayor for taking on an issue that advances social justice. Yesterday was such a day, when Mayor Bloomberg appeared with DMI board member Martin Luther King, III and the families of victims of gun violence to call for a comprehensive national...
1 tag
State of the City: Bloomberg Failing Ordinary New...
John Petro Mayor Bloomberg's third term began badly for middle class New Yorkers. Twelve thousand families fell into poverty over the past year, a four percent increase. The number of food stamp recipients in the city is up by 15 percent, and the number of families staying in homeless shelters is up 13 percent over a year ago. John Petro, urban policy analyst at the Drum Major Institute...
1 tag
Wal-Mart's PR Buzz Kill: Wal-Mart Kills Jobs
John Petro Wal-Mart launched a new public relations campaign on Monday to build support for a New York City store, including radio and print ads, direct mailers, and a new city-specific website. The effort is the work of Mayor Bloomberg's former campaign manager, Bradley Tusk, who was hired by Wal-Mart last November. But Tusk's job just got a lot tougher. New York City Public Advocate Bill...
3 tags
New Study Uncovers Wage Theft and Workplace Abuse...
Afton Branche For day laborers, finding work too often means accepting less than minimum wage, forgoing safety equipment, or enduring abuse by crooked employers. A new study by the Seton Hall Law School Center for Social Justice highlights the harsh realities for these workers in the New Jersey day labor market, finding evidence of wage theft and other workplace violations. The authors surveyed...
3 tags
Who Said It: Andrew Cuomo or John Boehner?
Amy Traub Public spending is the number one problem. Taxes are too high. And we've got to eliminate regulation. It sounds a lot like the rhetoric of the House's new Republican majority, the folks who strenuously expressed their concern over deficits, then pushed to extend the deficit-ballooning Bush tax for the wealthiest Americans (it looks like infrastructure investment and college...
3 tags
A New Year and a New Fare, But MTA Budget the Same...
John Petro The 30-day Metrocard went up by $15 on January 1st, and transit riders are wondering why, after last year's elimination of two subway lines and dozens of bus lines, they are being asked to pay more for less service. On top of $104 Metrocards, there's even more bad news for transit riders: the MTA is projecting that it will be $207 million in the hole by the end of 2012...
2 tags
Worst City Policies of 2010
Amy Traub John Petro contributed to this post. Corruption Takes a Toll in Bell Progressives know government can be a powerful force for good in people's lives. So it's particularly devastating when the people charged with upholding the public trust — local officials with the potential to improve the lives of their constituents — instead betray the public. The year's...
2 tags
Best City Policies of 2010
Amy Traub John Petro contributed to this post. Denver Sparks Parental Involvement En Espanol The experts agree: parental involvement has strong positive effects on students' achievement in school. When parents are engaged with their child's education, attendance improves, grades and test scores go up, and graduation rates rise. But how can school districts involve parents who...
2 tags
Rep. Steve King's Big Plans in 2011: Deporting...
Afton Branche Today's immigration hard-liners are characterized by an almost religious devotion to proposing draconian immigration laws; even when these policies plainly conflict with our nation's economic interests. In a recent interview, Rep. Steve King (R-IA) gave a preview of his legislative priorities should he become chairman of the House's immigration subcommittee next year. One of King's...